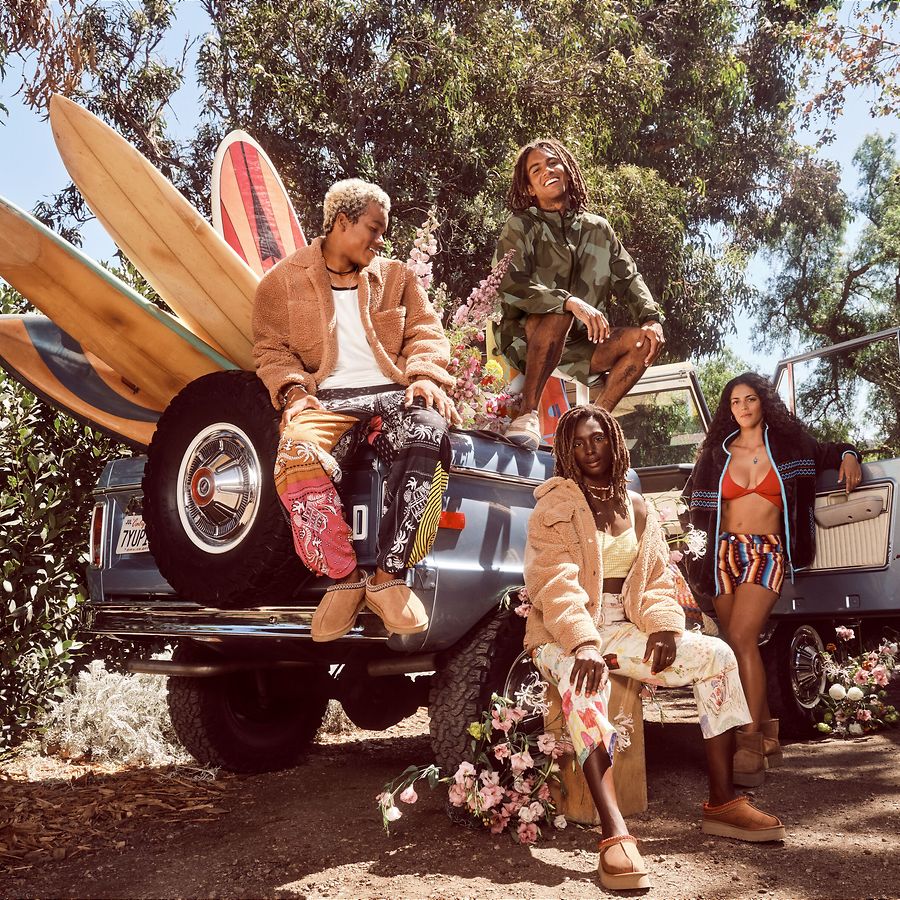 Whether you're looking for everyday shoes or cozy slippers, UGG has been the go-to brand for trendy and timeless styles for over 50 years. After realizing life as an accountant was not fulfilling, UGG founder, Brian Smith, moved to California and decided to make sheepskin footwear and other apparel for surfers to wear after they finished surfing the waves. UGG helped to define the California lifestyle – their extreme comfort, soft interiors, and indoor/outdoor fluidity made them the perfect multifunctional shoe. 
UGG expanded to bigger markets in the early 2000s, with actors and musicians wearing them walking their dogs, in photoshoots, and even on the red carpet. The iconic Classic Short was taking the fashion world by storm. 
Now, UGG is all about laidback luxury with their updated styles such as Classic Ultra Mini and Tazz. They've been spotted on everyone from Gigi Hadid to Adam Sandler over the years, and UGG has collaborated with Kith, Sacai, Telfar, and Feng Chen Wang. These partnerships have contributed to UGG's evolution into the brand it has become today.
The best thing about UGG might not even be their products, but their commitment to quality footwear and business practices. UGGs are durable, comfortable, and made to last. They use regenerative materials, have helped convert over 310,000 acres of land, and are reducing greenhouse gases with each pair of footwear by 40% per pair. Their responsibly-made products include ethically-sourced sheepskin, leathers, suede, wool, down, cotton, and hemp.
UGG strives to be inclusive, welcoming all shapes and sizes to wear their products to make self-expression comfortable for everyone. With a firm commitment to an inclusive community, UGG has also empowered over 45,000 female workers who work within the global supply chain through a partnership with HERproject™.
So, whether you're looking for something for lounging, something for a night out, or maybe even something you want to give as a gift, check out UGG for the coziest, best-looking footwear. Look good and feel good about your purchase thanks to UGG's commitment to helping the environment and creating an inclusive, welcoming brand.