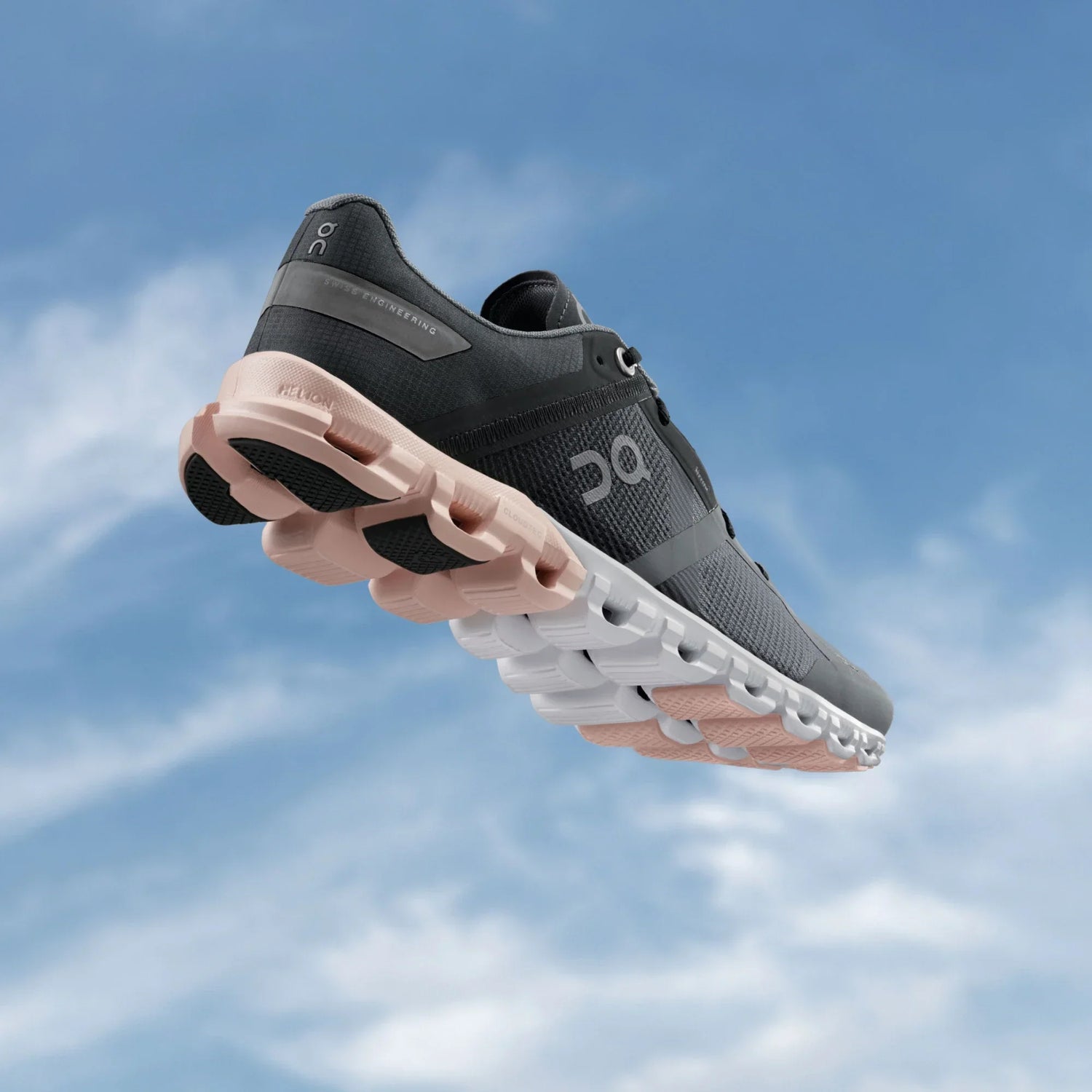 If you're looking for a great pair of active lifestyle shoes to add to your collection, we're here to help! You've probably seen the iconic On Cloud 5 out and about town. From the waitress at your favorite brunch spot to the hot moms on their early morning walks, everyone agrees that these shoes are comfortable, good for you, and good for the planet. They're only getting more popular, which means On is definitely a brand to watch.
Founded by Swiss Ironman champion Olivier Bernhard, these shoes are intended to withstand whatever exercise you put them through. Engineers work with runners to figure out what will make a running shoe the best for foot health, like creating more cushioning for softer landings. On shoes are made by athletes, for athletes, but you don't have to be an athlete to love them! 
So what makes On shoes so special? All On shoes have Cloudtec, a revolutionary material that absorbs impact, reduces strain, is extremely lightweight, and makes it feel like you're running on a cloud. 
Shoes shouldn't be just about looking and feeling good – they're about doing good, too. On believes in sustainability and responsible manufacturing, so all of their shoes are made with bio-based and advanced recycled materials. Their goal is to make high-performance products with the smallest possible footprint. Their CleanCloud™ process captures carbon emissions that are then made into foam cushioning, moving them closer to a fossil-free running shoe. 
You don't have to take our word for it, of course, but you should probably listen to Roger Federer. He's a part owner of the brand, and even has a line named after him – The Roger Collection. Professional runners like Telahun Haile Bekele, Yared Nuguse, and Gustav Iden have also given their input to help ensure On's shoes can hold up to the most strenuous of circumstances. 
Our favorite style is the On Cloud 5. Whether you're revamping your workout fit or just need a comfortable everyday shoe for Christmas shopping, hot girl walks, and running errands, the Cloud 5 will be your go to shoe. The only question is what color will you pick?
Benefits of Leather Shoes

One of the easiest fashion trends to get behind right now is conscious shopping. To some that means being more aware of your shopping habits, thinking about sustainability, or just simply prioritizing quality over quantity. We're done with overshopping, overspending, and undervaluing.

Enter: Leather. 

Small Business Saturday: Thank you!

In honor of Small Business Saturday, we want to give thanks to all our wonderful customers who made the decision to shop small. When you buy a pair of shoes at Hansen's, you're a person with a name not just another number and data point at the big box stores. Shopping small businesses helps provide jobs, support the local economy, and give back to your community. As a family-owned business that's been around for over forty years, we want to share our story!

How Do You Know Your UGGs Fit?

 UGGs have been around for years, but thanks to social media and celebrity sightings, they're currently taking the world by storm. Whether you're new to the cozy footwear and loungewear or a longtime, loyal wearer, there might still be some things you don't know about UGGs. 

If you're looking to get your first pair, you might be worried about sizing. If you're ordering them online, remember that Classic UGGs run a bit big – if you wear a half size, size down. If you wear a full size, stick with that – you can always try a smaller size if you need to. The Fashion styles and Rain boots are true to size so go with your regular size.