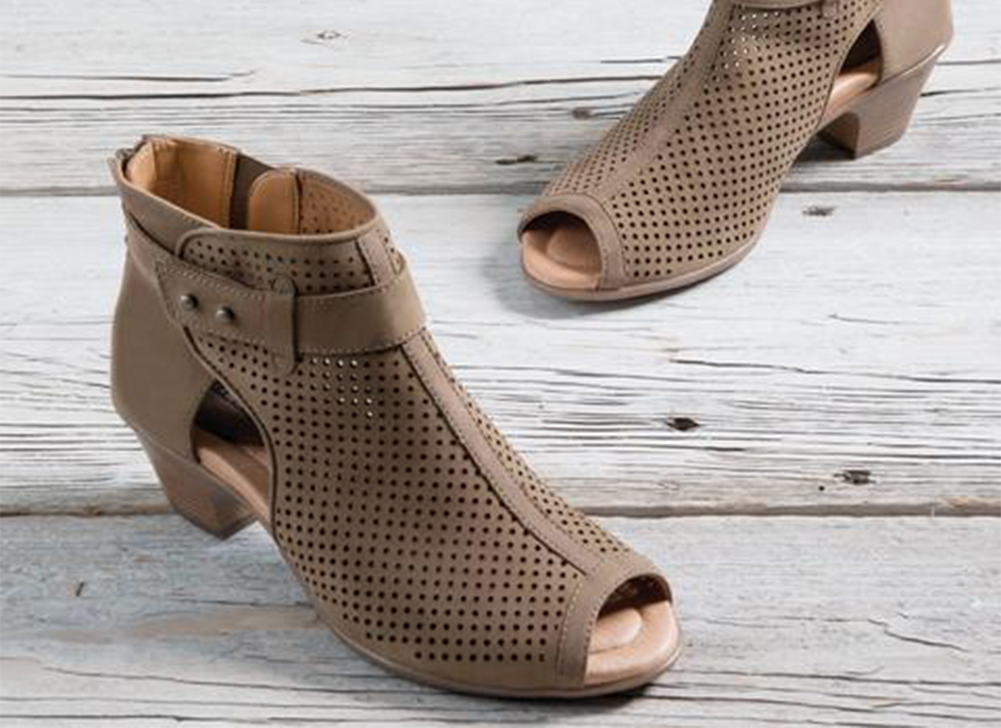 Thanks to the rise of athleisure, comfort is now cool, according to Angelo Romero, executive vice president of Earth Brands. And if the company's 2016 sales are any proof, he would be correct. "We had to revise forecasts numerous times to attend to a much higher-than-planned demand for the Intrepid open-toe shoetie silhouette," Romero cites as one example.
Director of Marketing Katie Dobbs adds that Earth's health-and-wellness heritage is playing to the brand's advantage with today's overriding health-conscious culture. "We began as a wellness shoe company over 40 years ago when the original Kalso Earth Shoe was created by Anne Kalso, a Danish yoga instructor," she says. "To this day, we pride ourselves on developing shoes for women that remain true to her founding beliefs that comfort and whole-body wellness begin from the ground-up." Dobbs adds that for Spring '17, marketing efforts aim to refocus on telling Kalso's story and how she continues to inspire the brand.
Specifically, the spring collection draws on active-fashion inspiration with an expanded variety of materials and colors. "Comfort is made cool by combining athletic technology with classic silhouettes," Romero offers. "The Earth/Earthies collection for Spring '17 [pays] special attention to leather finishes and manual burnishing that highlight the artisan approach we bring to product manufacturing." He cites such tech- and fashion-forward aspects as laser cutting, reptile print and metallic finishes as well as floral prints "borrowed from high-end fashion houses." What's more, Romero says, a broad retail price range ($90 for sandals up to $180 for summer boots) offers a little something for everyone.
But for an authentic comfort brand, looking good is not necessarily as important as feeling good. Earth tapped consumers for feedback, who said that while other comfort brands provide some anatomical support, footbeds are typically too hard or not supportive enough to allow an optimal degree of softness. For example, Romero notes that while there are offerings in the market featuring memory foam insoles, those don't offer much actual support. In contrast, he cites Earth's new multi-density footbeds, designed to combine anatomical structure with different densities. "With the multi-density footbeds, we have been able to provide the consumer with a more complete, balanced support and comfort experience," Romero explains.
Buyers at the recent round of trade shows (bookings were at an all-time high) gave their vote of confidence, reports Romero. "We are having considerable growth in a very competitive environment," he says, describing the comfort category as crowded. "But I'm not surprised by that," he adds. "Recently I was in Italy attending the Micam show, and it was obvious that the focus on comfort was prevalent in women's footwear."
So how does Earth set itself apart from the sea of comfort brands? "The key factor is while staying true to our comfort roots, to push the design boundaries of what people perceive as comfort shoes," Romero says. He adds that part of the category's over-crowding is due to a favorable exchange rate causing European brands to push into the U.S. market. It means brands have to be even more on top of their game to present a meaningful difference. "We differentiate ourselves by working very closely with key retailers in different distribution channels and identifying ways in which we can partner to attend market opportunities," Romero says, noting that Earth is able to get cutting-edge ideas into fruition faster than its competitors. "Our advantage over other brands is that we are nimble. Our development/sourcing center in Asia materializes concepts and turns ideas into actual product very quickly."